Full Hook-up
$42/day  |  $252/week

includes
pricing for 2 adults, 2 children                     Add $5/person/night for extra
Monthly and Seasonal Rates available
Cabins/Rentals
$70/day + tax   |  $420/week + tax
Tax is 13%; state, local and occupancy
full bed
twin bunk beds
heat
air
bathroom
fridge
microwave
coffeemaker
screened porch
Bring your own linens
pricing for 2 adults, 2 children
Add $5/person/night for extra

Tent Sites
$42/day  |  $252/week

pricing for 2 adults, 2 children
Add $5/person/night for extra
All guests visiting the campground will be subject to a $5.00 per person guest fee.  Guests must register at the office upon arrival.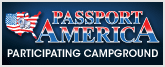 ASK HOW TO SAVE 50% ON YOUR CAMPSITE!
Rates subject to change without notice
We honor the following discount plans:
Passport America, Recreation USA, FMCA, AAA .
We are not affiliated with RV Park SuperGuide, even though we are listed in their publication.  We are sorry for any inconvenience this may cause.
 Effective May 1, 2015, we accept cash, check and  Visa and MasterCard DEBIT only if you are using any of our generous discounts.